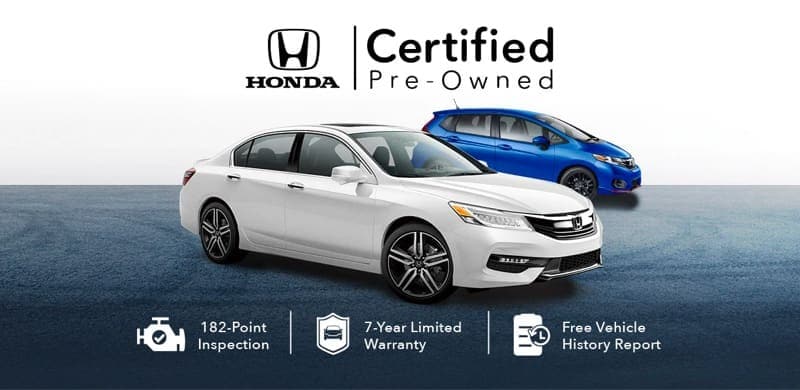 Certified Pre-Owned
Nothing compares to the quality of a Honda. No other program comes close.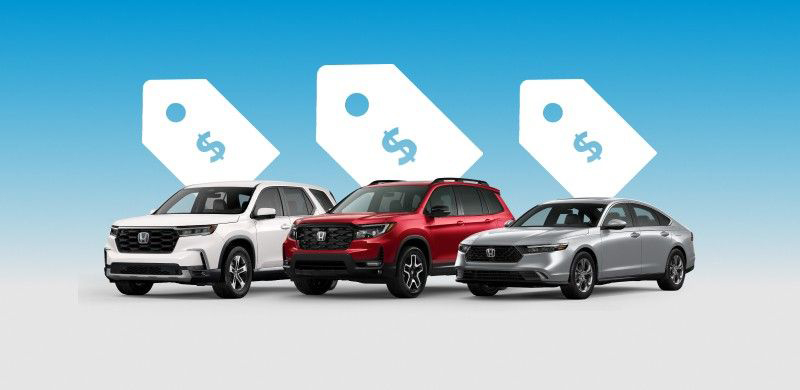 Current Offers
See this month's featured current offers going on now on new Honda vehicles.
Our Reviews
Regis our salesperson was wonderful! He was very personal, thorough, and professional during our purchase. He was by far the best we ever had and will recommend he to everyone! Please give him the recognition he deserves.
Very informative, helpful and easy to do business with. Also very responsive to any questions.
I love the shuttle service and how they keep you updated when having your car serviced
Used the "express service" for my oil change in my cr-v. they did that but also checked all systems and gave me a full report. Waiting room is clean and coffee is good.
An excellent dealership I've used since 1987. There is only one disappointment - the requirement for an addendum (over $1700) when purchasing a new vehicle. This is common practice today, but really should be prohibited by Honda and state/federal regulations. Addendums are expensive, and force the consumer to purchase items not asked for, not wanted, and wildly overpriced !
Nice bike for less than 2 grand brand new and 110 mpg!
I bought a certified pre-owned Accord and the experience was good for the most part. Part of my purchase was a service plan, so at 10,000 mile I made an appointment and brought it in for service. The staff was friendly and helpful and I didn't experience my usual mechanic related anxiety. They had my appointment information ready and all I had to do was hand them my fob. I chose to wait at the dealership and the waiting area was very pleasant and comfortable. They even had a board showing first name and last initial with the status of your vehicle. This eliminated the fear of being forgotten about. The entire experience took just over an hour and I played on my phone and the time flew by. David's customer service was particularly great and I ended up feeling less stressed out than I typically am. It was like a tiny vacation where I could just chill and have an excuse to kill a little time having fun instead of worrying about my car like I do at other mechanics.
Kerri was amazing! She is a great at her job and she is very reliable and make sure you get exactly what you are looking for plus more!
My one complaint about the dealership is the way it's presented to a new customer. A number of men seated out front, but no one asks if they can help us. We enter the showroom and there is no one at the front desk. No one else steps up to help us. Once we got to a sales person, the process of purchasing a new car went smoothly, and Mr. Doby was pleasant and helpful. But we were left waiting with no one to help us for too long. It made me wonder if my business was important to anyone.
We have worked with Honda of Lexington for years and they are phenomenal. They always work with us to get us exactly what we want, in a timely fashion and with the best prices. We have worked with other Honda Dealerships but they are our go-to and we have bought our last 4 cars from them and plan to continue to buy from them. My daughter was in an accident recently and her Civic was totaled. Kerri Labelle worked with us, stayed in constant communication with us and gave us updates on a regular basis until we got exactly what we were looking for. Thank you for your great service!
This place has great service all the time. I went in to inquire about a malfunction headlight and it was fixed the next day. One advantage to having my service work done by this dealership is that I can count on the service being done properly and according to the manufacturer's maintenance schedule. I have never been disappointed like I was with on of these fast change oil places.
She is amazing and has been great job as the most realiable dealer. Thanks to her work and help, I could have a new car from Honda:)
Amazing customer service from the Honda staff they go above and beyond for the customer
Fantastic service from Rusty Curran. Paperwork to purchase car was fast and easy to understand.
Friendly and prompt service. Murl Hope is the best.We'll be coming back for all of our needs.
The staff from the time I made my appointment to the time they shuttled me to and from my home were outstanding. The communication regarding my vehicle was impeccable leaving nothing to question. Thank you Honda of Columbia!
Kayla called in after my husband dropped off my 2012 honda crv. She let me know that I indeed need a new battery. She informed of the pro rated replacement and when we could pick up the car. She was courteous during the transaction. We were pleased with our experience. Thanks Kayla.
This was the third car I leased with Honda. Great experience with Asten, Adam and Adrian!
Columbia, South Carolina's finest Honda service facility. As my point of contact, Breanna oversaw every aspect of servicing my Honda Pilot. Quick response times and fixed prices to avoid any unpleasant surprises.
I made an appointment for an oil change and tire rotation. It had been right at 5,000 miles since my last oil change and I wanted the tires rotated and checked since I was about to drive on a long trip on my own. When I got there, David checked the maintenance indicator which showed 50% for the oil status. He explained to me that we don't go by that anymore with these newer cars. He said I just needed to watch the oil status and get the oil changed when it got to 15% because cars now make status indications based on how you drive, etc. He didn't make me feel stupid. Then I asked him to check the tires. He said, "How about we do our multipoint inspection and just check the whole car out. It's free." He came back and said everything was fine. I felt so much better getting on the road by myself. So he didn't charge me for a service I didn't need and sent me away with more than I asked for at no cost. I will be a customer for as long as I can get to them based on this experience. Short term they lost. Long term they gained, plus I will speak good about them whenever I have the opportunity.
Mr.Doby was a pleasure to work with.
Love Honda of Columbia. Always quick service for a reasonable price.
Eveyone here, from service to sales, is always friendly and professional. The staff is knowledgeable and find resolution to all of my questions or concerns.
Amazing customer service. Adrien was very helpful in getting us the car we need and following up with us to make sure we had everything we needed.

Welcome to Honda of Columbia
Welcome to Honda of Columbia! Here, you can shop for new Hondas or used cars at our Lexington dealership serving the West Columbia and nearby areas. Come visit us to test drive a Honda, speak to one of our certified Honda experts or to discuss auto financing options. You can also reach us via phone at (803) 461-0185. Honda of Columbia always has a wide selection of quality new and used cars, so we have a vehicle for everyone, no matter what it is that you're looking for.
Rely on Honda of Columbia for Finance & Vehicle Maintenance
When you're ready to buy a Honda car in Lexington, SC, you can depend on the expertise of the sales professionals at our finance center. They will work with you to find a financing or leasing plan to suit your budget while getting you the vehicle that will meet your needs. If you choose to add accessories or a protection package to your Honda car purchase or you would like assistance with your loan or lease package, our finance professionals are ready to help you!
Our Honda dealership near Columbia, SC has a state-of-the-art service center to accommodate all of our customer's automotive needs. When you purchase your new Honda car at our Lexington dealership, you'll receive quality maintenance and services from us for mile after mile. Easily schedule your service appointments online and browse our service specials to save on your next visit.
Shop Our Online Inventory Today
Whether you're in the market for a new or used Honda vehicle, we hope that you'll choose Honda of Columbia - your local Honda dealership! Contact us today to schedule a test drive and see our wide selection of models and amenities. We want to help you find the new Honda car or SUV that is perfect for your commute!
Get Directions To Honda of Columbia